Product Summary
The BladeMill™ aptly named to reflect the concept of a "skating treadmill" is the original and category definer in its market. It changed the way power skating training is thought of, and brings skating to dryland where real ice rental and cost is no longer a barrier to teams and skaters. improvement.


BladeMill™ Models
Professional
Custom designed larger and/or wider skating surface. Halo Harness Gantry System, Optional All Weather Built in Entertainment System.
Intermediate / Institutional Model
[Intermediate] The standard model designed for team training, allowing up to 5 skaters to "cycle" simultaneously. Used by Schools and Universities for conditioning and rehabilitation.
The New C-Class "BladeMill-C"
New low profile, smaller compact design but built and marketed for a tighter training budget. The Halo Harness as well as many of the other components are options, Its modular design allows the buyer to purchase just what you need now and add-on features later for future expansion of training protocols. Never have to buy a new system it grows as you grow. The New BladeMill-C and our finance options will work for almost you every training budget.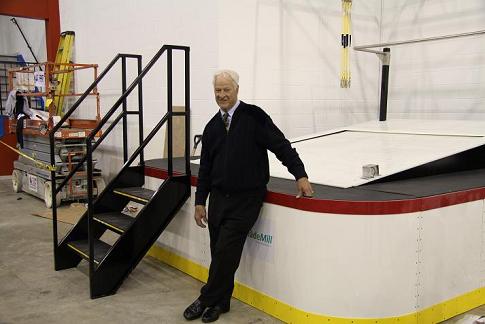 Uses and Applications
For endurance, strength, and technical advancement and overall conditioning of all skaters at all levels

Develop better skating mechanics and a more powerful stride

Ice-skating arenas

Dryland training facilities

Fitness environments

For recreational, amateur and professional skating teams

Speed, hockey and figure skating clubs and associations

Schools and universities who foster intramural skating teams

Physio centres for rehabilitation and disabled persons

Features Include
10 HP variable speed AV inverter motor

Capable of handling 400 pounds at 30° at 72KPH [45MPH] or 50LBS at 0° at a walking pace, with no transition hesitation

ToughIce® skating surface creates a thin boundary layer between the blade and skate deck for authentic ice feel

Puck deck inclines simultaneously with skate deck

HarnessHalo® allows for up to 5 skaters to cycle safely and without interruption

Rear-mounted shut-off infra-red light beam for paramount safety

Multiple options including skirting, cameras, screens, audio and more