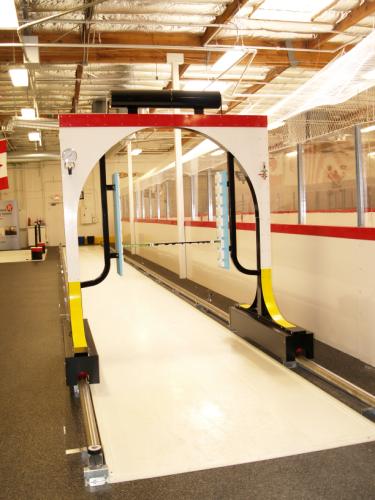 GrindRail is a 70' long by 6' wide track with rails and gable... motivated by the clock.

There—and back if you dare!
Product Summary
GrindRail® is designed for strength training. Players with under developed upper body strength will now be able to be more aggressive in the corners and in giving checks; and to stay solid when hit.
Our unique, constant torque rail system allows for smooth and gradual increases in resistance.

Uses and Applications
Strengthens upper body, calves and thighs

Teaches balancing and weight distribution

Installs well along vacant walls

Pre-programmable variable torque—the further you go, the tougher it gets

Improves skater core strength by extreme force needed to push gable forward

Provides accuracy feedback to motivate improvement

Stamina development for longer shift time

Features Include
Variable torque control for tension setting

Multiple height cross-bars for comfort

Structural steel construction for solid feel

Wall clock to push skaters to their limits

ToughIce® brand all-climate synthetic skating surface

Excellent of upper body strength training and leg development