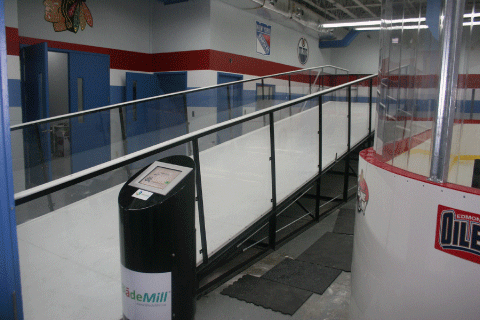 ToughRamp is 55' long by 8' wide driven by time measured 3x on the way up.
Product Summary
ToughRamp® is designed for explosive start training. Players are coached to continually reduce their ramp time, in an effort to work legs that will allow them to be the first to the puck on ice.
This is the next step after having the BladeMill provide mechanical efficiency.

Uses and Applications
Strengthens calves and thighs

Teaches explosive starts

Like running up stairs but with your skates on

Excellent cardio training

Provides accuracy feedback to motivate improvement

Stamina development for longer shift time and quicker "to the puck" times

Features Include
Angled ramp with Lexan sides for viewing

ToughIce® brand all-climate synthetic skating surface

Photo cells for measuring and monitoring times at 3 critical stages

Wall clock to push skaters to their limits

Structural steel construction for solid feel

Also available: A variable size 1/4 Pipe, any width and length for various uses